Assembly & SETUP
CHIPIT is designed to set up quickly without any tools. The components store easily in a convenient lightweight carrying tote—so you can take CHIPIT anywhere! CHIPIT is made with high quality custom materials that will last and look great, game after game. Just follow these easy steps and within minutes you'll be ready to play! Watch an additional ASSEMBLY VIDEO HERE.
COMPONENTS FOR EACH HEXAGOAL
12 ELBOWS: Each custom CHIPIT elbow has three openings. Two at 120 degrees to create hexagons and one at 90 degrees to connect the top and bottom hexagons. Each elbow opening has a small ridge built inside for simplicity. Simply insert and push each pipe until is stops.
12 SHORT PIPES, 6 LONG PIPES: The short pipes build your hexagons and the long pipes connect the top hexagon to the bottom hexagon.
1 NET, 1 WRAP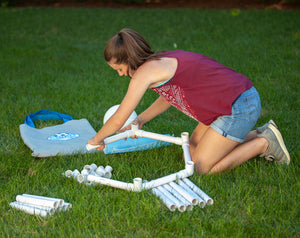 Step 1 - Bottom Hex
Build and connect your bottom hexagon by inserting 6 short pipes into 6 elbows.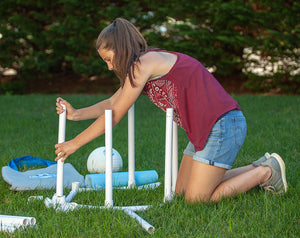 Step 2 - Pipes
Insert 6 of the long pipes into each elbow's upward facing opening.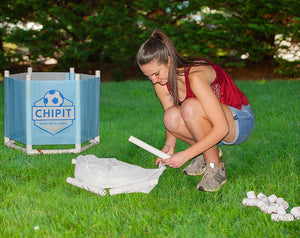 STEP 3 - NET
Insert the 6 remaining short pipes into the sleeves of your net. Make sure the net stitching is on the inside. Use the remaining 6 elbows to connect the short pipes, to build your upper hexagon.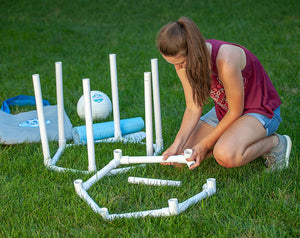 STEP 4 - TOP HEX
Use the remaining 6 elbows (center opening pointed down) to connect the short pipes around the net, to build your upper hexagon.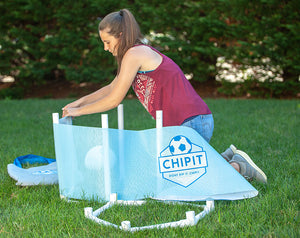 STEP 5 - ADD WRAP
Slide the looped end of the wrap on any of the upward pointing long pipes of the bottom hexagon.
STEP 6 - CONNECT HEXAGONS
Take the top hexagon and press down onto each of the upward facing long pipes. Press down until each connection is secure.
STEP 7 - SECURE WRAP
With the top and bottom hexagons secured, pull the wrap tightly around the hexagonal. The wrap will fit precisely inside the 90-degree connections. When pulled correctly, the Velcro will match up for a firm connection. The CHIPIT logo will appear in between the 2 long pipes.
CHIPIT MATCH SET UP
In a traditional CHIPIT match the Hexagoals are set on a rectangular playing space, 36 feet (12 yards) apart from one another (the iconic distance of a soccer penalty shot).